Of course, I have dedicated a whole post to shoes.
When I was trying to decide the minimal amount of shoes to bring (is it even minimal?), I kept going back and forth on my selection. I already know that I'll be walking everywhere so no heels and I would need work appropriate shoes too. Plus I wanted to pack smartly so that I could wear all my shoes often. As I will be living there for a year, I will get to experience all the 4 seasons which also means having to be ready for all seasons!
I know you might be thinking, well you can just buy shoes there too, but I don't want to be spending money on shoes I already have and having yet another pair of shoes to have to deal with! For me, packing what I need will hopefully mean more time for adventures and less time looking for items that I need. Here are the shoes that I'm bringing with me:
1. Exercise shoes
A non-negotiable in my book. You've got to keep active in life plus I'm envisaging plenty of walks around the neighbourhood to explore and weekend walks.
Update: Have worn a few times on my evening walks. Good decision.
2. Work flats
I'll be needing these which will also double as my "formal" shoes.
Update: Have worn regularly but I keep them at work because I cannot walk for a long time in them.
3. White sneakers
These go with everything and can be worn everywhere. I think these will be my most worn shoes. The ones I'm bringing are probably halfway through their life so I am thinking I might need a replacement pair there.
Update: Wear them almost all the time and also to and from work as I have to walk alot. I think once summer ends, it might be time to say goodbye to them as I was already wearing them back home and they have done a few many more kms here.
4. Ankle boots
Whilst the peak summer season is short, there are many more colder months and therefore more time to wear boots! Arguable my favourite type of shoe, they will be worn to work once the weather gets colder and everywhere around town.
Update: Have worn already to work. Can't wait to wear them all the time.
5. Knee high boots
I thought that another pair of boots will serve me well. I've been hearing about these Siberian winds that can come over so am thinking these will provide some protection. Plus I can also wear them to work.
Update: Still in suitcase as it's too hot right no. At the moment, unsure if they were a good decision to bring or not but it depends on how long the pre-snow season lasts and weather I'll wear these in the snow?
6. Hiking shoes
I feel like hiking shoes are one of those negotiable shoes but I don't want to spend time looking for them and I already have a pair. Hiking is suppose to be a favourite past-time in Korea with their plentiful tracks and national parks. It'll be a great way to see the autumn colours and hopefully get to see some great scenery too.
Update: Also not sure if this was the wise decision as have not worn yet. It's too hot at the moment for long hikes although I have seen people go to hikes many times.
7. Summer sandals
I know these will be short lived but mine are super super comfy so that I can walk anywhere in these.
Update: Have worn a few times but will usually pick my white sneakers if I'm going to be out all day.
8. Bought Jelly Shoes
When it rains, it pours here. I thought I could get away with my white sneakers or boots but enjoying wet feet seems to be a normal thing here. The popularity of crocs or croc-like shoes took me by surprise. Unable to bring myself to don a pair of crocs, I took a 360 degree turn to the 80s and got myself jelly shoes instead. They are actually really comfy and feet dry pretty quickly after walking in the rain.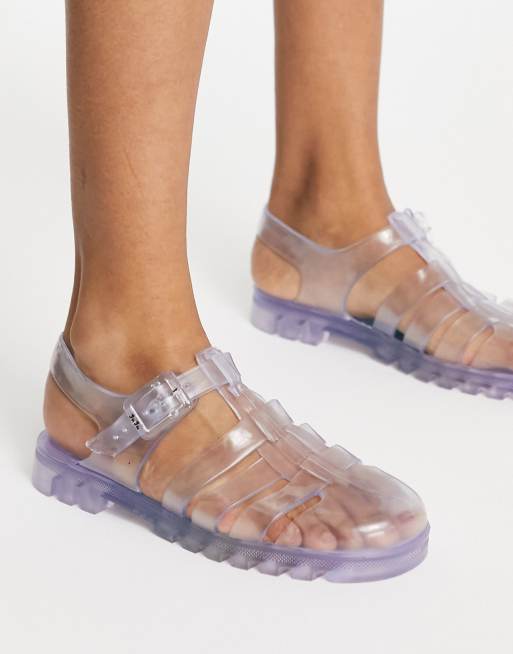 9. Bought slides
I needed a quick pair of slides to go down the road or take out the trash and found a pair on sale here. Slides are pretty big where with every 2nd person wearing these old for errands or a cafe visit. Glad I didn't bring my thongs (flip flops) from back home.
How are you with packing shoes? Have you had any past shoe packing errors or wishes?
Related Posts:
– 2 Months in South Korea
– I am moving abroad
– Why I'm taking a career break
– How I started learning Korean